Telling a Story Without Villains
Staying self-focused in an other-focused world.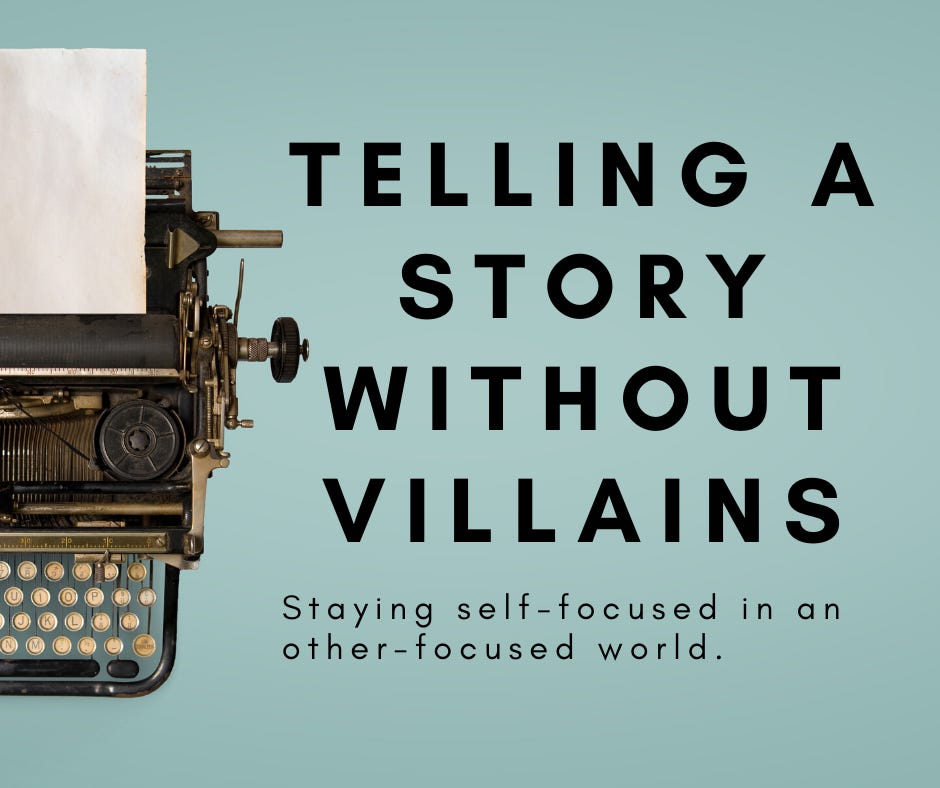 When I first meet with therapy clients, I ask them lots of questions about their families. I try to ask fact-based questions, like when someone was born, or where they live now. But a funny thing will happen as people talk about their family. A narrative emerges, as villains, heroes, and victims take the stage.  
Humans are natural storytellers, so it's not surprising that our stories about our families lean toward the question "Why?" We want to assign motive and meaning to people's behavior. My mother called because she's controlling. My spouse doesn't help because they're lazy. My child won't cooperate because she's impossible.
There are a few problems that emerge when we assign motive in our stories. First, it keeps us focused on others' behavior. Second, it makes it hard to think flexibly about our own behavior. About how "leveling up" on our own maturity could make a difference in the relationship equation.  
What narratives are you telling in the time of COVID-19? Who are the villains in your stories? Are they the people who've flocked to beaches and parks? Lawmakers who don't seem to have a clear plan? Your aging parents who won't stop taking joy rides to Home Depot? Your spouse for not stepping up as much around the house?
I've been thinking a lot lately about what it looks like to tell a story without villains. And I think it looks like observing and describing how humans react automatically and predictably to stress. It doesn't mean that people can't be right or wrong, or that they shouldn't be held responsible for their actions. It's simply acknowledging that staying stuck in a narrow framework of right and wrong, of hero and villain, doesn't free you up to think creatively about the problem and your part in the solution.
When you are over-focused on your spouse's shortcomings, you paralyze your ability to try something different in the relationship. When you scroll the news for evidence of people's recklessness in the pandemic, you have no energy left to be a resource to your community. When you resent your kids for pulling you into their ceaseless bickering, you don't stop to think about how you want to navigate this emotional triangle. Focus on others leads to rigid, automatic, and reactive behaviors. In other words, you're throwing immaturity right back at them.
An article in The Atlantic last week described how the citizens of Hong Kong organized their own response to COVID-19, which resulted in only 4 deaths in a city of 7.5 million people. "Hong Kong teaches that people aren't helpless, even when their government isn't helpful," observed the reporter. A powerful statement, one that made me ask myself these questions: How do I become helpless when my government isn't helpful? And how does my own helplessness contribute to the cycle of anxious reacting that seems to plague America right now? One in which we are all very focused on villain-heavy narratives.
Being more responsible for yourself is like removing a single domino from a chain reaction—and by doing so you give others a little more freedom to think about their own responses. What can happen when one person is willing to take responsibility for themselves in a family? What can happen when many people are willing to take responsibility for themselves in a city of millions? I think Hong Kong has answered that question. 
So this week I want you to ask yourself this question. "When is the story I'm telling about my family, my work, or my community getting in the way of me being more responsible for myself?" How do you begin see these people as a cluster of humans who are merely reacting to distress in predictable ways? After all, it is only human to avoid, to fight, to act helpless, or try to control what cannot be controlled. But it is also uniquely human to be thoughtful, to problem solve, and to interrupt the narratives that separate us from our best selves.
News from Kathleen
Upcoming Virtual Speaking Events:
Buy my book! If you haven't gotten your copy of Everything Isn't Terrible yet, you can buy it from Amazon, Barnes and Noble, Indiebound, Target, or anywhere you buy books! But I encourage you to support your local indie bookstore. The book is also available in e-book and audio book form.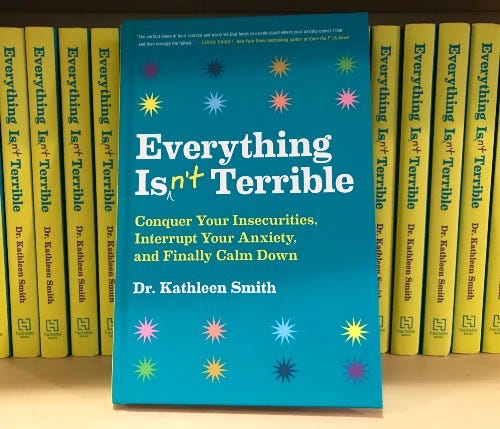 New Anxiety Journal! The folks at Hachette Books have helped me create a new, free digital resource to supplement your reading of my book, Everything Isn't Terrible. It's called Calming Down & Growing Up: A 30-Day Anxiety Journal, and it includes thirty daily prompts to help you reflect on and respond to your anxious behaviors, using the ideas in Everything Isn't Terrible. 
To get a copy of the digital journal, you can submit a copy of your receipt for my book at the Hachette page, and they'll send you it to you. Or you can email me.
If you're new to the newsletter, you can check out my website for past newsletters about anxiety and relationships. You can follow me on Twitter, Facebook, or Instagram, or email me if you have questions about the book, want me to speak to your group, or want to learn more about my therapy practice in Washington, DC. You can also visit the Bowen Center's website to learn more about Bowen theory, as well their conferences and training programs.